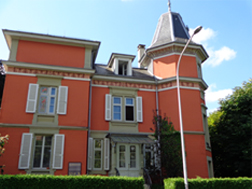 The Councelling Centre Universities of Bern
publish this study guide
is counselling you on course-related and personal matters, supports you in change processes and also offers workshops in each semester.
The counselling team consists of specialists in the fields of psychology, coaching, psychotherapy, professional, academic and careers counselling and adult education.
Who is entitled to seek counselling from us?
You are entitled to seek advice from the Counselling Centre Universities of Bern as a student or member of the teaching staff of the University of Bern, Bern University of Teacher Education or Bern University of Applied Sciences. Administrative employees are also entitled to make use of our services.
More information

Counselling/Coaching, Workshops, Information
The Counselling Centre is a division of the "Amt für Hochschulen der Bildungs- und Kulturdirektion des Kantons Bern" (Office for Higher Education of the Department of Education and Culture of the Canton of Berne).